Our mission is simple…
We, the First Church Of God, as a family of believers in the shed blood of Jesus Christ for the salvation from our sins, do purpose to evangelize through loving, learning, witnessing, teaching and giving. We do understand that the MISSION of the FIRST CHURCH OF GOD is to WIN SOULS to the KINGDOM OF GOD through the empowering of the HOLY SPIRIT, HOLINESS, SERVICE, and CHRISTIAN UNITY through THE WORD OF GOD. Celebrate Black History Month 365 days!
Pastor's Welcome message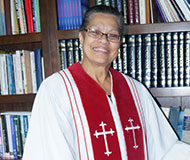 Rev. Jacquelyn Drago-Hunter, Senior Pastor
The Late Reverend Jacquelyn Drago-Hunter is the youngest daughter of the late Dan White and Cherrie White. She enjoys traveling with her 101-year-old mother, who on occasions, introduce her. Rev. Drago-Hunter attributes her spiritual awakening, her salvation, and her continued thirst for Jesus Christ, to her Christian parents and to her home church St. John Baptist, under the Pastoral Leadership of the late Rev. Julius James. It was at St. John Baptist where she attended Sunday school,
read more
Daily Devotional
What a blessing it is to have you include us in your journey on the Internet. We invite you to join us for breakfast any Sunday morning starting at 9:00 a.m. Need a ride? Just call us! We would love to have you worship with us.