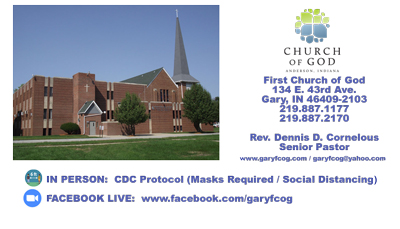 First Church has been blessed over the years. We are excited about the move of Christ in our midst. Our individual families add might and power to our services as we make ourselves available to worship in the presence of our Lord and Savior, Jesus Christ. It's not by any goodness of our own, nor anything we possess, nor by our ingenuity, but by the grace of God that we are free from Satan's grasped.
As a member of God's kingdom here, while trusting in Him, and committing our lives to Him, God will continue to make something meaningful out our lives, serving as His representative. You can come with us on this journey along the path of life, for God has great things in store for all of us. If we lift up the name of Jesus in this dark and sinful world, He has promised that He will draw men, woman, boys and girls unto Himself. Stay prayerful as we work together in making First Church a Holy Church and Gary a great city of God.
As pastor of this great work, the ministers, and other spiritual leaders here, we are available and willing to work with you and for you, to help you be all that God is calling you to be. We are a family and must hold each other up in prayer and learn to love each other so that First Church can become the Church that God is looking for in these last and evil days. You are special to God and to First Church. Continue, to rejoice, pray, worship, and even cry together, giving God all the glory. "The kingdom of God is about righteousness, peace and joy in the Holy Spirit, because anyone who serves Christ in this way is pleasing to God and approved by men", Romans 14:17-18. Remember, this day is the beginning of the rest of your life, but live it as if it is your last day.
May the God of our Salvation extend peace and blessings as we practice obedience to His Word.