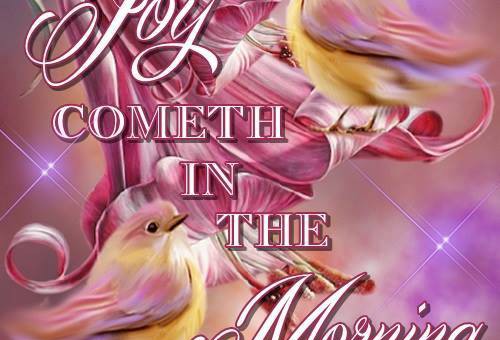 Weekly Bread – April 10, 2016
WEEKLY BREAD FROM THE PASTOR'S TABLE
                THE JOY OF THE LORD IS OUR STRENGTH
                       Psalm 30
 Life is full of up's and down's.  There are pleasurable days along this journey; those days when the sun is shining, the boss is in a good, mood, the kids did their homework without being asked, the house is clean and all appears to be right with the world.  Then… there are those not so pleasurable days!  These are the days when everything appears to simply go wrong.  There are dark clouds, rain, sleet and snow, the storms of trouble and yes even the death/transition of a loved one, can weigh heavy upon our hearts.  It is during these times we must lean and depend totally upon the Lord!
King David understood the need to depend on the Lord.  His life was full of up's, down's, good choices, and bad choices.  King David's choices ranged from Praise and Worship to disobedience to God and the unthinkable murder of his own devoted solider! Yet he also knew the joy of the Lord.
So what is this joy of the Lord…and how do we move from weeping to joy????
Well, joy is a state of being; a feeling of great pleasure and happiness as defined by Webster dictionary. Real joy is achieved through a relationship with Jesus.  Only through a relationship with Jesus do we recognize and understand true love.  This love will never leave us nor forsake us! A love that sacrificed his life so we could be free from the bondage of sin and death. God is Love… and knowing we are loved brings great joy and pleasure.
The Joy of the Lord is our strength knowing no matter the situation we have happiness and pleasure knowing He is our Savior, Redeemer, Deliverer, Healing, refresher, restorer and while our weeping may endure for the night… JOY comes in the morning!
I hear the Joy bells of heaven sweetly ringing within, since my Redeemer I have found… I'm pressing onward and upward on that glad happy way..Oh Praise the Lord I'm heaven bound!