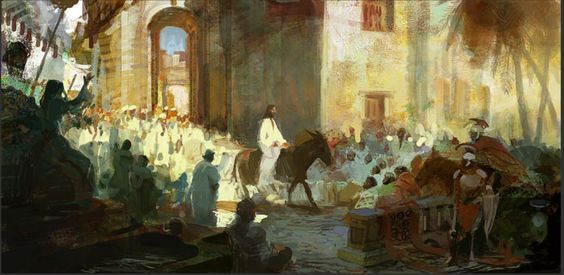 Weekly Bread – March 16, 2018
Weekly Bread from the Pastor's Table
Scripture John 12:12-19
RIDING IN TRIUMPH  –   "DON'T WAIT TILL THE BATTLE IS OVER TO CELEBRATE"
Palm Sunday commemorates Jesus' entry into Jerusalem and is celebrated by Christians throughout the world.  This marks the beginning of Holy Week and is also referred to as Passion of Christ; Fig Sunday; Willow Sunday, Branch Sunday, and Blossom Sunday.   According to our Christian belief Jesus rode into Jerusalem where the people gave him a "grand" welcome during the Jewish Passover celebration.  They carried Palm branches because they are a traditional symbol of victory.
Now Jesus knew his time was at hand; he would soon suffer and die for the sins of mankind.  Yet we read of this grand celebration!  The people are cheering, waving victory palms while the Savior of the world is riding on a donkey soon to carry a cross up Calvary hill.  Jesus understood he was on this way to Victory!
As I read the scripture I thought about all the situations and circumstances… the trials and tribulations of life we find ourselves headed towards.  I thought about how we struggle to celebrate in times of hurt, pain, confusion, betrayal, and facing our inevitable cross. Yet when we have an example… "JESUS"… we have his entry of triumph; an entry of celebration; an entry of victory; an entry of authority and power.  Jesus did not wait until his purpose was fulfilled to celebrate victory… he rode in victory on his way to Calvary.
As we enter this "High Holy Week" let us follow the example of Jesus.  Let us always be mindful that we do not have to wait until the battle is over to shout… We can shout our way through knowing the battle has never been ours… it belongs to the Lord.  Ours is the VICTORY!